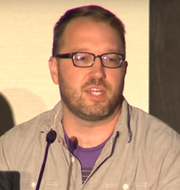 Scot Richey is a localization manager at Nintendo of America's Treehouse division. Having joined Nintendo in 2001, Ritchey became manager in 2013. Ritchey was involved with the localization of Metroid Fusion, Metroid Prime, Metroid: Other M and Metroid: Samus Returns. For Prime, Ritchey was a translator and bilingual coordinator. Outside of localization, Ritchey provided voice acting to minor characters in Xenoblade Chronicles X.
External links
Edit
Ad blocker interference detected!
Wikia is a free-to-use site that makes money from advertising. We have a modified experience for viewers using ad blockers

Wikia is not accessible if you've made further modifications. Remove the custom ad blocker rule(s) and the page will load as expected.