"
I worked on Gameplay, Collision and Physics for Metroid Prime for the GameCube.
"

—Scott Johnson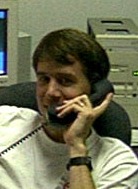 Scott Johnson is a software engineer and was an additional contributor to Metroid Prime. He worked at Retro Studios for a year prior to the game's release and worked on the game's gameplay, collision and physics. He previously engineered at Motorola and Terminal Reality, and subsequently at Acclaim Studios Austin and Electronic Arts before shifting to engineering work for the United States military for a number of years. He is currently the CTO and partner at Chosen Realities LLC, which is experimenting with virtual and augmented reality.
External links
Edit
Ad blocker interference detected!
Wikia is a free-to-use site that makes money from advertising. We have a modified experience for viewers using ad blockers

Wikia is not accessible if you've made further modifications. Remove the custom ad blocker rule(s) and the page will load as expected.