"Chozo script translated."
---
This article's name is an unofficial translation from official Japanese media and may not represent the canonical English name, if one exists.
An alternate name from an official source may be required.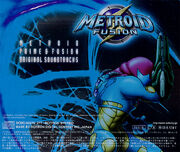 Sector 4 (AQA) Aquatic Control Level Area (セクター4(AQA) 水位制御エリア?) is the theme that plays throughout the upper area of Sector 4 in Metroid Fusion. It is also included in the Metroid Fusion Arranged Version medley heard on the Metroid Prime & Fusion Original Soundtracks. It is much less brooding compared to the later Sector 4 (AQA) Underwater Area theme heard in the depths of Sector 4. It was composed by Minako Hamano and Akira Fujiwara.
The original theme can be heard here: [1] and the medley here: [2].