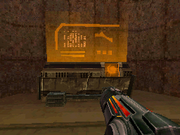 A Security Computer is a minor object found in Metroid Prime Hunters. They can be found in the rooms Alinos Perch and Council Chamber. The computer in Alinos Perch, when scanned, unlocks a door leading to the room Crash Site. The one in the Council Chamber is used to deactivate a force field.
Alinos Perch

"The security system has been deactivated."
Council Chamber

"A nearby force field has been deactivated."