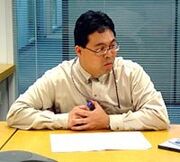 Shigeki Yamashiro is the president of Nintendo Software Technology, a position he took in 2002. Prior to this, he was a major programmer for Nintendo during the SNES era in the 1990s. Yamashiro worked under the supervision of Shigeru Miyamoto, the creator of the Mario and The Legend of Zelda franchises.[1] Yamashiro is credited under special thanks in Metroid Prime 2: Echoes, and he produced Metroid Prime Hunters, which was developed by NST.
External links
Edit
References
Edit
Ad blocker interference detected!
Wikia is a free-to-use site that makes money from advertising. We have a modified experience for viewers using ad blockers

Wikia is not accessible if you've made further modifications. Remove the custom ad blocker rule(s) and the page will load as expected.