"Given your unofficial status..."
---
This article's title is conjectural.
Any name given in official media is eligible to become the title of the article.
The current title is not an official name.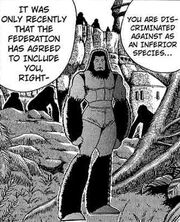 "Simians" are a race of large ape-like humanoid. They are apparently discriminated against by the rest of the Galactic Federation, which, according to a captured Space Pirate, dubbed P-1, is due to them being primitive compared to most other humanoids. P-1 states that the Chozo, particularly Platinum Chest, had recommended the species to the Federation.
Commander Mauk is a Simian.

Ad blocker interference detected!
Wikia is a free-to-use site that makes money from advertising. We have a modified experience for viewers using ad blockers

Wikia is not accessible if you've made further modifications. Remove the custom ad blocker rule(s) and the page will load as expected.