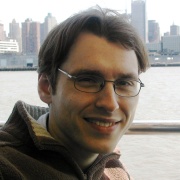 Simon Watson is a British video game developer and the lead programmer at Showplans since April 2013. Watson's experience is in programming for Nintendo DS, Wii, PC and Unity. From 2004-2008, Watson was the lead programmer at Fuse Games where he worked on several concepts and tech demos, Active Health with Carol Vorderman and Metroid Prime Pinball, the latter two being for Nintendo DS. After Fuse Games, Watson worked as a programmer and consultant at Razorworks, Rebellion, Brightside Games, the Max-Planck-Institut für Quantenoptik (German physics institute), Playgenic GmbH, Chimera Entertainment GmbH, Silverball Studios (the successor to Fuse Games) and Dry Ice Studios.
Watson has an MSci degree in Physics from University College London.[1]
References
Edit
Ad blocker interference detected!
Wikia is a free-to-use site that makes money from advertising. We have a modified experience for viewers using ad blockers

Wikia is not accessible if you've made further modifications. Remove the custom ad blocker rule(s) and the page will load as expected.