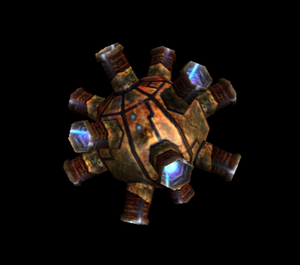 Very similar to other types of Puffer, the Sky Puffer feeds on noxious gasses above SkyTown, and especially likes Phazon gas. As it is stated in its Logbook entry to be native to the planet Elysia, it is assumed to be one of the few biological lifeforms that call the planet home, despite its metallic appearance.[1]
Locations
Edit
Logbook entry
Edit
Sky Puffer
Metroid Prime 3: Corruption
Temporary scan
Morphology: Sky Puffer
Vulnerable to basic weaponry. Consumes and emits deadly gases.
Logbook entry
The external shell of the Sky Puffer is incredibly fragile, susceptible to most small arms fire. Only a few shots from basic weapons can damage it. Sky Puffers are native to the planet Elysia. They feed on the various noxious gasses in the atmosphere. They are especially fond of Phazon gas.
References
Edit
Ad blocker interference detected!
Wikia is a free-to-use site that makes money from advertising. We have a modified experience for viewers using ad blockers

Wikia is not accessible if you've made further modifications. Remove the custom ad blocker rule(s) and the page will load as expected.