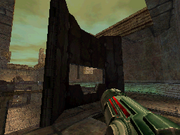 The Sniper Shield is an object in Metroid Prime Hunters, found in the Combat Hall room on Alinos. It is presumably used to train sniper weapons like the Imperialist. Similar targets can be sniped throughout the game, but they appear as red ornate objects.
Logbook entry
Edit
Sniper Shield
Metroid Prime Hunters
Logbook entry
Used for precision projectile training.