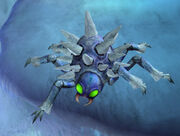 Snomers[1] are arctic versions of Geemers found in Sector 2 / Cryosphere of the BOTTLE SHIP in Metroid: Other M. Just like the Geemers of Other M, they will come out of the ground, but with much greater frequency. They are also capable of rolling into a ball and leaping toward Samus to attack her rather than just being an obstacle, like normal Geemers. The Snomer's skin is blue, and features white spikes and green eyes.
References
Edit
Ad blocker interference detected!
Wikia is a free-to-use site that makes money from advertising. We have a modified experience for viewers using ad blockers

Wikia is not accessible if you've made further modifications. Remove the custom ad blocker rule(s) and the page will load as expected.