"
Metroid Prime is special to me. The characters I animated; the people I worked with; even the place where it all happened − it will always have a special place in my heart. It may seem so long ago now, but I still get asked about that experience.
"

—Sonny Santa Maria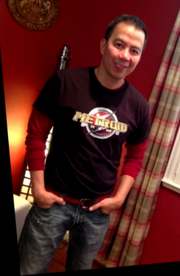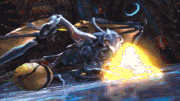 Sonny Santa Maria is a video game contract animator. He was involved with Metroid Prime 3: Corruption at Retro Studios. His animation reel includes a version of the cutscene preceding the Omega Ridley battle, which depicts him in his Meta form and shows Samus wearing her Varia Suit. In the final game, Samus wears her PED Suit, as the battle occurs later in the game and the Varia Suit would not survive in the Pirate Homeworld Seed. The scene is otherwise identical to that in the release version. Santa Maria also created the cutscene of Ghor fighting a Berserker Knight in the Cargo Hub on Norion.[1]
Prior to working on Corruption, Santa Maria had never played any of the previous Metroid games. Vince Joly, an old friend of his from a previous company, sent him an email one day asking if he was interested in a project involving a "heroine with this ultra-cool space suit". While hesitant about changing jobs and relocating from California, Santa Maria decided to visit the headquarters of Retro, in order to reconnect with Joly and see Austin, Texas, where Retro is located. He saw a statue of Samus in the studio lobby, and tried not to embarrass himself by acting giddy during the interview, but failed. He then met with Joly, who showed him some of the characters he could be animating. Santa Maria was excited and sold on the project, in his mind, even moreso when he learned that Corruption was being developed for the Revolution, later known as the Wii.[1]
Santa Maria has stated that Metroid Prime and Retro Studios changed his career and life, and led to numerous job offers, such as at Sony Interactive Entertainment America for God of War. He has also worked at Bandai Namco Entertainment, Vicarious Visions, Lucasfilm, Turtle Rock Studios, Ubisoft, and currently at WB Games.
In 2015, Santa Maria was diagnosed with leukemia. To keep busy and stay motivated, he created Space Hunter: N-E-O-N, a short animation featuring Samus performing acrobatics with a neon overlay. Almost by accident, the video happened to coincide with the series' 30th anniversary.
In March 2018, Santa Maria published a guest feature on Shinesparkers detailing how he came to work on Corruption, which can be accessed at a link below.
External links
Edit
References
Edit