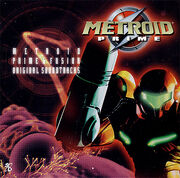 The Space Pirates battle theme first appeared in Metroid Prime and later was remixed for the same purpose in Metroid Prime 2: Echoes, Metroid Prime 3: Corruption and Metroid Prime Pinball. Each version has a different mix to it, with Echoes' version adding extra drums and Corruption's version adding extra sounds. The theme is remixed for the Shooting Range in Metroid Prime: Federation Force, which features targets with Space Pirate likenesses. The Echoes version is included with the Samus Archives Sound Selection CD.
The theme sounds similar to the track "Futile Escape" from the movie Aliens, a film which some Metroid games have taken plot inspiration from.
The theme from Prime can be heard here, the theme from Echoes here, the theme from Corruption here and the theme from Pinball here.
Aspects of the theme can be heard mixed into the Mystery Creature's battle music in Metroid: Other M, along with Vs. Ridley.
Ad blocker interference detected!
Wikia is a free-to-use site that makes money from advertising. We have a modified experience for viewers using ad blockers

Wikia is not accessible if you've made further modifications. Remove the custom ad blocker rule(s) and the page will load as expected.