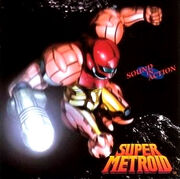 Super Metroid: Sound in Action is a music CD released only in Japan. It was released on June 22, 1994 and features music from Metroid and Super Metroid, in addition to four rearranged Super Metroid tracks. The Metroid music was composed by Hirokazu Tanaka and Super Metroid music was composed by Kenji Yamamoto and Minako Hamano, giving the CD a total runtime of 58:49. The Metroid music appears to have been ripped from recordings of the game and not from development files as many of them contain in-game sound effects. The render of Samus on the cover is also present on the Super Metroid Super Famicom cartridge.

Tracklisting
Edit
Warning: Fan Translation(s) Ahead
---
This article, section, or file contains text that is unofficially translated by Wikitroid editors, Some information (such as proper English names of characters or items) may not be accurate. If an official translation becomes available, the fan translation(s) may be replaced.
Note: These names are unofficially translated from Japanese.
Missing tracks
Edit
Not all of the music in Metroid or Super Metroid is present on this CD. Below is a list of themes in the games that are not included: