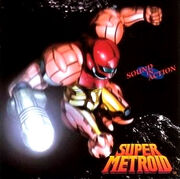 Super Metroid: Sound in Action is a music CD released only in Japan. It was released on June 22, 1994 and features music from Metroid and Super Metroid, in addition to four rearranged Super Metroid tracks. The Metroid music was composed by Hirokazu Tanaka and Super Metroid music was composed by Kenji Yamamoto and Minako Hamano, giving the CD a total runtime of 58:49.
Tracklisting
Edit
Note: These names are unofficially translated from Japanese.
Opening (Destruction of the Space Colony)
Norfair Hot Lava Area
Maridia Rocky Underwater Area
Maridia Drifting Sand Underwater Area
Mini Boss Confrontation (Spore Spawn, Botwoon)
Big Boss Confrontation (Kraid, Crocomire, Phantoon)
Mysterious Statue Chamber
Planet Zebes Explodes
Ad blocker interference detected!
Wikia is a free-to-use site that makes money from advertising. We have a modified experience for viewers using ad blockers

Wikia is not accessible if you've made further modifications. Remove the custom ad blocker rule(s) and the page will load as expected.