Super Smash Bros. Melee
Talk

1
3,540pages on
this wiki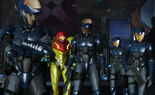 "Clearly, this facility is in complete disorder."
---
This article or section requires a cleanup to meet
Wikitroid's quality standards.
You can discuss this issue on the talk page or edit this page to improve it.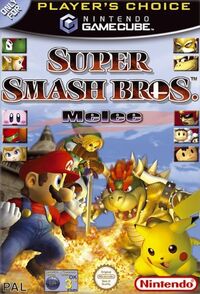 Super Smash Brothers Melee, known as Dairantō Smash Brothers DX (大乱闘スマッシュブラザーズDX?, lit. "Great Melee Smash Brothers Deluxe") in Japan, is a 2.5D fighting game for the Nintendo GameCube and the sequel to Super Smash Bros. Many aspects of the game from the original were improved on, such as graphics and the inclusion of more characters and arenas.
In the 1-P Classic Mode, the player can fight Samus Aran on the Brinstar stage. She can also appear in metal form near the end of Classic Mode.
Adventure
Edit
In the 1-P Adventure Mode, the player fights Samus on the Brinstar stage and then has to escape the exploding planet Zebes afterwards, much like the ending of Metroid or Super Metroid. The player does not have to escape but he or she does lose a life if time runs out.
Event Matches
Edit
In the 1-P Event Match Mode, Samus appears in several levels. She is one of the characters the player must fight in Bomb Fest (the other one being Link), Girl Power (along with Princess Zelda and Princess Peach Toadstool), and Hot Date on Brinstar (by herself). Samus is also the playable character in the events Cold Armour, where she must fight three metal versions of herself, and The Bounty Hunters, where she must compete against Captain Falcon to KO Bowser.
Samus is one of the 14 characters available from the start.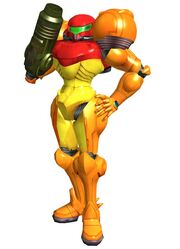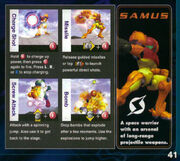 Standing
A - Straight
A, A - Cannon Hammer
A (While dashing) - Shoulder Tackle
Jumping Attacks
Jump, A - Chozo Kick
Jump, Forward Tilt + A - Aerial Fire
Jump, Back Tilt + A - Flying Back Kick
Jump, Up Tilt + A - Drill Kick
Jump, Down Tilt + A - Meteor Cannon
Strong Attacks
Forward Tilt + A - Spin Kick
Diagonal Up Tilt + A - Spin Kick (High)
Diagonal Down Tilt + A - Spin Kick (Low)
Up Tilt + A - Heel Kick
Down Tilt + A - Earth Blaster
Smash Attacks
Forward Smash + A - Cannon Lunge
Up Diagonal Smash + A - Cannon Lunge (High)
Down Diagonal Smash + A - Cannon Lunge (Low)
Down Smash + A - Spinning Leg Sweep
Up Smash + A - Cover Fire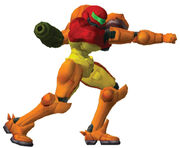 Special Attacks
Throws
While Grabbing...
A - Chozo Chop
Forward - Beam Throw
Backward - Reverse Beam Throw
Up - Beam Launch
Down - Beam Slam
Taunt
Up on D-Pad - Bounty Pose
Orange and Red: Varia Suit
Pink: Similar to the appearance of the Varia Suit when missiles are selected in the original NES Metroid.
Black (Brown)
Green
Purple and Blue: Similar to the Gravity Suit in Super Metroid.
Used when Samus is on the Blue team.
The Metroid series' first (and only) Super Smash Bros. item, the Screw Attack, debuted in Melee. In this game, it was a held object that would cause a character's jumps to become Screw Attacks. The ball could also be thrown at an opponent to damage them and force them to involuntarily perform the maneuver.
Two stages derrived from the Metroid series appear in Melee. Planet Zebes: Brinstar is available from the start of the game, and the Planet Zebes: Brinstar Depths stage is unlockable.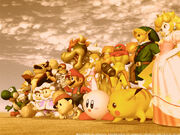 Characters
Edit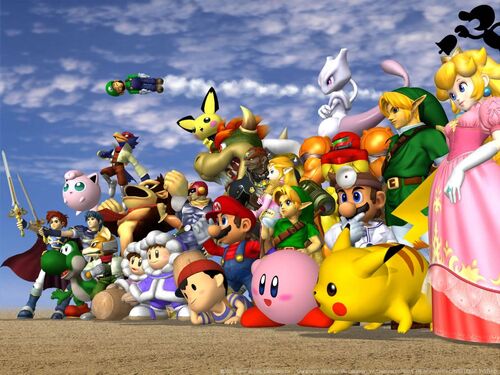 Main article: List of characters in the Super Smash Bros. series
In addition to the music above, a music album was released called Smashing...Live!, which featured fifteen rearranged themes from Melee, one of which was Depth of Brinstar, a fusion of the Brinstar and Brinstar Depths themes.
Debug Menu Options
Edit
SAMUS MASK GET' - Awards the "Samus Unmasked" trophy, normally unlocked through long-since-passed Nintendo events.
SPLWSAMUS - If the CPU is Samus, she'll use her Down + B attack.