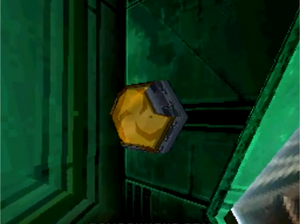 Not to be confused with the Nintendo Switch.
Switches are hexagonal objects that can be found in Metroid Prime Hunters. Typically blue or yellow in color, they serve as a minor Alimbic security system and have darker stripes inside of it. When Samus interacts with a switch, she can activate or deactivate various things. Usually, she must shoot or scan one. It acts as the Hunters variant of the Interface Module, Hand Scanner and Terminal. Another example of switch in Hunters is the Platform Switch.
Ad blocker interference detected!
Wikia is a free-to-use site that makes money from advertising. We have a modified experience for viewers using ad blockers

Wikia is not accessible if you've made further modifications. Remove the custom ad blocker rule(s) and the page will load as expected.