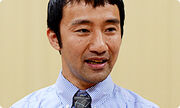 Takao Nakano is a producer at Nintendo SPD1 who frequently works with the Pokémon franchise. He is also the director of the 3D Classics series on the Nintendo 3DS Virtual Console. In addition to producing, Nakano has designed, programmed and supported a few titles. Nakano is credited under special thanks in Metroid: Zero Mission. According to his Kyoto Report profile, he is a fan of traveling and the outdoors.
External links
Edit
Ad blocker interference detected!
Wikia is a free-to-use site that makes money from advertising. We have a modified experience for viewers using ad blockers

Wikia is not accessible if you've made further modifications. Remove the custom ad blocker rule(s) and the page will load as expected.