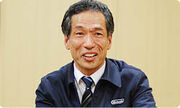 Takehiro Izushi is a Japanese employee of Nintendo, who was the general manager of R&D1 after Gunpei Yokoi's resignation in 1997. Izushi late retired from game development to take a role in the company's general affairs division, after R&D1 was restructured by Satoru Iwata in 2005. Izushi joined Nintendo in 1975 as an engineer, working on the Color TV Game series and Game & Watch games as a programmer. From there, he transitioned to producing many of Nintendo's games, including Metroid Fusion and Metroid: Zero Mission. Izushi was credited under special thanks in Metroid II: Return of Samus, Super Metroid (unused) and Metroid Prime.[1]
References
Edit
Ad blocker interference detected!
Wikia is a free-to-use site that makes money from advertising. We have a modified experience for viewers using ad blockers

Wikia is not accessible if you've made further modifications. Remove the custom ad blocker rule(s) and the page will load as expected.