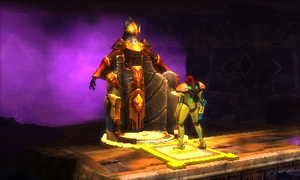 Teleport Stations are a station in Metroid: Samus Returns. They provide a fast travel feature to the game, allowing Samus to quickly transport herself between areas of SR388. This can allow her to more conveniently return to previous areas. Metroid II: Return of Samus did not have such a feature, meaning that extensive backtracking would be required in order to return to past areas.
On-screen tutorial
Edit
"Select an area with a Teleport Station that you wish to travel to."
Ad blocker interference detected!
Wikia is a free-to-use site that makes money from advertising. We have a modified experience for viewers using ad blockers

Wikia is not accessible if you've made further modifications. Remove the custom ad blocker rule(s) and the page will load as expected.