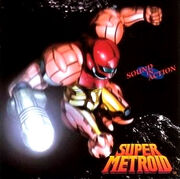 Theme of Samus Aran, Space Warrior is a music track that appears in Super Smash Bros. Brawl and Super Smash Bros. for Nintendo 3DS and Wii U on the Norfair stage. It is a remix primarily of the credits theme from Super Metroid, but also the intro theme. Below are links for comparison.
The original theme from Super Metroid can be heard here: [1]
The remix from Brawl can be heard here: [2]
Another version of this theme can also be heard in Metroid Prime 2: Echoes, as the theme of the Federation Marines. This version also plays in Metroid Prime 3: Corruption, when Samus meets Aurora Unit 242 in person after obtaining the PED Suit, and again when she speaks to Fleet Admiral Castor Dane on the Pirate Homeworld. A third remix for Metroid: Other M is present in the trailers (including the one shown at E3 2010), on Metroid.jp and Metroid.com, and in-game for the Story feature.
A brand new remix of the theme is present in Metroid: Samus Returns for the game's introduction, and is featured on the Samus Returns Nintendo 3DS theme and in the Samus Archives Sound Selection CD. It can be heard here: [3]
Ad blocker interference detected!
Wikia is a free-to-use site that makes money from advertising. We have a modified experience for viewers using ad blockers

Wikia is not accessible if you've made further modifications. Remove the custom ad blocker rule(s) and the page will load as expected.