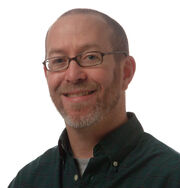 Tim O'Leary is an interpretor, translator and localization manager at Nintendo of America. O'Leary is responsible for translating games from Japanese to English and vice versa, and coordinating between staff at Nintendo who speak either language. O'Leary has worked at Nintendo since the early 2000s and is fluent in Japanese, having lived in Japan for five years.[1] His long list of translation credits includes Metroid Fusion, Metroid Prime, Metroid Prime 2: Echoes and Metroid: Samus Returns. Notably, he also provides the voices of Jimmy T., Dribble, Mike, and Dr. Crygor in the WarioWare series.
External links
Edit
References
Edit
Ad blocker interference detected!
Wikia is a free-to-use site that makes money from advertising. We have a modified experience for viewers using ad blockers

Wikia is not accessible if you've made further modifications. Remove the custom ad blocker rule(s) and the page will load as expected.