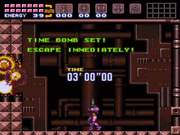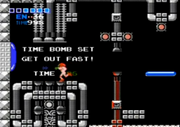 A Time Bomb is mentioned in Metroid and Super Metroid, but not in the former's remake (a Self-Destruct System is used instead). The Bombs are extremely devastating in effect, and were rigged to activate their countdowns if the Mother Brain was destroyed in Tourian. After defeating Mother Brain, Samus will be given a message that the Time Bomb has been set and that she has 999 seconds (Metroid) or 3 minutes (Super Metroid) to escape. In Metroid, she only has to escape Tourian, but in Super Metroid, the time bomb decimates all of planet Zebes.
Metroid

"TIME BOMB SET
GET OUT FAST!"
Super Metroid

"TIME BOMB SET!
ESCAPE IMMEDIATELY!"
Ad blocker interference detected!
Wikia is a free-to-use site that makes money from advertising. We have a modified experience for viewers using ad blockers

Wikia is not accessible if you've made further modifications. Remove the custom ad blocker rule(s) and the page will load as expected.