"
As I let my imagination work its magic very quickly an updated Viking Warrior Chieftan emerges sailing the raging seas of space and he has dangerous and terrible tasks to struggle with. He makes decisions that cost him the life of friends and comrades in arms. He feels each loss deeply as he fights on against overwhelming odds. He rejoices in each victory... and always he is in command... foes come from every side yet still he has trusted allies and some brilliant young heroes to deploy.
"

—Timothy Patrick Miller on voicing Fleet Admiral Castor Dane[1]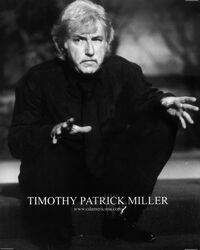 Timothy Patrick Miller is the voice actor for Fleet Admiral Dane in Metroid Prime 3: Corruption. He frequently does many American and historical works, such as book narrations and plays.
Ad blocker interference detected!
Wikia is a free-to-use site that makes money from advertising. We have a modified experience for viewers using ad blockers

Wikia is not accessible if you've made further modifications. Remove the custom ad blocker rule(s) and the page will load as expected.