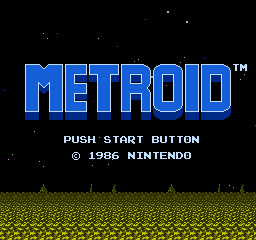 The Title Screen is the initial screen of every Metroid game. It always features the logo, release year, developer (Nintendo), a background, and usually a message asking the player to press start or another button to go to the Samus Data Screen. The Title Screen in Metroid II: Return of Samus, however, doubles as the Samus Data Screen. If left idle long enough, most Title Screens in the games will begin playing gameplay footage. Contemporary Metroid games play a cutscene while the Title Screen is loading, meant to attract players to the game. The Title Screen in the original Metroid instead shows Samus's mission orders in poorly translated English. When Metroid: Other M is first loaded on the Wii console, a one-time Title Screen appears asking the player to press 2 on the Wii Remote, to set up language and subtitles, and then the game begins. The normal Title Screen is accessible after this. From here, the Samus Data Screen, Theater Mode and Gallery Mode can be accessed once unlocked.
Super Metroid manualEdit
"Press the START button or A button while the title screen is displayed to go to the Samus Data screen."
Ad blocker interference detected!
Wikia is a free-to-use site that makes money from advertising. We have a modified experience for viewers using ad blockers

Wikia is not accessible if you've made further modifications. Remove the custom ad blocker rule(s) and the page will load as expected.