"
Through our work on the Metroid Prime projects, everyone had sharpened their skills in their respective areas.
"

—Tom Ivey[1]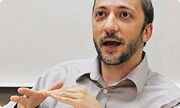 Tom Ivey is a video game designer formerly of Retro Studios. He joined Retro after working with Bryan Walker at Origin Systems, and designed Metroid Prime 2: Echoes and Metroid Prime 3: Corruption. For Echoes, Ivey provided design support, and for Corruption he was a senior designer. He subsequently designed Donkey Kong Country Returns, Mario Kart 7 and Donkey Kong Country: Tropical Freeze before leaving Retro in 2013. Ivey now works at Armature Studio, which was founded by several ex-Retro developers.
External links
Edit
Ad blocker interference detected!
Wikia is a free-to-use site that makes money from advertising. We have a modified experience for viewers using ad blockers

Wikia is not accessible if you've made further modifications. Remove the custom ad blocker rule(s) and the page will load as expected.