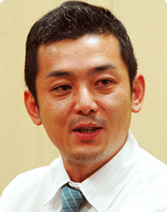 Tomoaki Kuroume is a graphic designer and member of Nintendo EAD Users Interface and Effects. Kuroume has designed user interface, effects, characters and printed artwork for numerous games and continues to do so. He created "Japanese text art" for Metroid Prime and Metroid Prime 2: Echoes, possibly referring to the logos. He is only credited with this role in the Japanese versions of the games, but in North America's version of Echoes he is credited under special thanks.
External links
Edit
Ad blocker interference detected!
Wikia is a free-to-use site that makes money from advertising. We have a modified experience for viewers using ad blockers

Wikia is not accessible if you've made further modifications. Remove the custom ad blocker rule(s) and the page will load as expected.