Transport to Agon Wastes is a room in Metroid Prime 2: Echoes. There is an elevator near the edge of a cliff with some webbing to the left side, which hides a Missile Expansion. Using the Scan Visor on a console close to the elevator will activate it.
Connecting rooms
Edit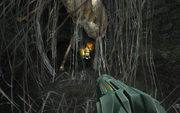 This is the only room with an Elevator and a powerup together.
In the Metroid Prime 2: Echoes Bonus Disc, the webbing blocking the expansion is missing, as is the expansion itself. When approaching the ledge, a message, "Warning: Terminal Fall Ahead!" appears.
Ad blocker interference detected!
Wikia is a free-to-use site that makes money from advertising. We have a modified experience for viewers using ad blockers

Wikia is not accessible if you've made further modifications. Remove the custom ad blocker rule(s) and the page will load as expected.