Tree
Talk

12
3,440pages on
this wiki
"Clearly, this facility is in complete disorder."
---
This article or section requires a cleanup to meet
Wikitroid's quality standards.
You can discuss this issue on the talk page or edit this page to improve it.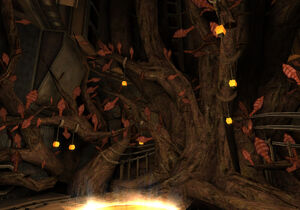 Trees appear often within the Metroid series. Many species of tree exist across the various worlds in the games, although most are unnamed and are not part of gameplay.
The Cyrlic tree exists on Tallon IV and SkyTown, and are said to often be planted on other Chozo-occupied planets (implying that they were on Zebes and SR388 as well). In the Tallon Overworld, the Great Tree exists in certain regions, such as the Tallon Canyon. Tallon Overworld also has two rooms named after the Great Tree; Great Tree Hall and Great Tree Chamber.
Aether contains the Blueroot Tree. Dark Aether also features a dark variant that is not scannable or named and is black in color, producing a red light if Samus stands in one. In the Torvus Grove room, a massive tree with structures made of Denzium has begun to decay due to exposure to Phazon via Heavy Phazon Canisters, that can be toppled with a Power Bomb. Finally, the Great Temple seems to be held up by a massive tree consisting of multiple trunks, with the Elevators going up to it being constructed out of the trees' hollowed interior.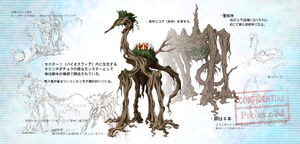 The Bottle Ship's Biosphere area contains trees, including one in a secret area nearby the Breeding Room, but they are merely scenery. Most sectors also contain a tree-like creature called a Groganch that often conceals itself as a tree and attacks when Samus approaches. In the Biological Experiment Floor, a large tree exists in the center, with the trunk appearing to have been slightly hollowed out into a spiraling shaft circling the tree, that brings Samus through the interior and underground.
Sector 2 on the Biologic Space Laboratories research station also features palm trees, as the area is meant to be a tropical environment.
During the development of Donkey Kong Country Returns, being made by Metroid Prime trilogy maker Retro Studios, Kensuke Tanabe pointed out that a palm tree had the detail of Metroid Prime scenery, joking that it was a "Metroid palm tree".