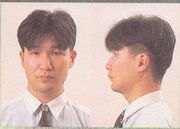 Tsuyoshi Watanabe is a graphic designer at Nintendo. He began his career designing backgrounds for The Legend of Zelda: A Link to the Past, and transitioned to 3D modeling and motion capture for Star Fox and its cancelled sequel, and various Nintendo 64 games. Since the Nintendo GameCube, Watanabe has become a major graphic supervisor for the Mario franchise, including spinoffs. Watanabe is credited under special thanks in Metroid Prime 2: Echoes.
Watanabe's blood type is O.[1]
External links
Edit
References
Edit
Ad blocker interference detected!
Wikia is a free-to-use site that makes money from advertising. We have a modified experience for viewers using ad blockers

Wikia is not accessible if you've made further modifications. Remove the custom ad blocker rule(s) and the page will load as expected.