ULF 74 (Metroid Prime)
Talk

2
3,568pages on
this wiki

"No matches found in flora and fauna databank."
---
This subject has no known canonical name.
Any name given in official media is eligible to become the title of the article.
The current title is not an official name.

"What's the matter? All I said was that Komaytos look like little Metr—"

---
Non-canon warning
:
This article or section contains information that may not be considered an official part of the
Metroid series
in the overall storyline by
Nintendo
.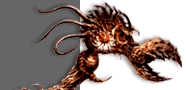 Unidentified Life Form 74 is an unused creature depicted only in very early concept art for Metroid Prime from E3 2001.
It shares superficial similarities with several other creatures, such as the coloration and head of the Parasite Queen, the asymmetry and tentacles of the two forms of Metroid Prime, and a claw like that of a Zebesian. (Also only depicted in concept art.[1])
What appear to be dismembered pieces of a creature very similar to ULF 74, dubbed "experiment 7526", can be found floating in a large Xenome Containment Unit in Research Lab Aether in the finished game.