Ad blocker interference detected!
Wikia is a free-to-use site that makes money from advertising. We have a modified experience for viewers using ad blockers

Wikia is not accessible if you've made further modifications. Remove the custom ad blocker rule(s) and the page will load as expected.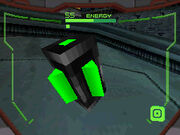 Universal Ammunition Expansions, also known simply as UA Expansions, are found throughout Metroid Prime: Hunters. They increase Samus Aran's Universal Ammunition capacity by thirty units. They serve the same purpose as the Beam Ammo Expansions in Metroid Prime 2: Echoes.
Logbook entry
Edit
Universal Ammunition Expansion
Logbook entry
Increases the UNIVERSAL AMMO capacity by 30 UNITS.[1]
References
Edit
^ Metroid Prime Hunters logbook