"Chozo script translated."
---
This article's name is an unofficial translation from official Japanese media and may not represent the canonical English name, if one exists.
An alternate name from an official source may be required.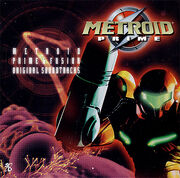 VS Metroid Prime (Spider) is the name given to the theme of the Metroid Prime's exoskeleton battle. The theme has not been remixed in a subsequent game but it has been re-arranged in Metroid Prime Pinball.
The theme from Prime can be heard here: [1] and the theme from Pinball here: [2].