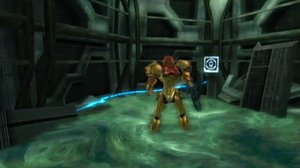 Waste is a green liquid substance only seen once in Metroid Prime 3: Corruption: in the G.F.S. Olympus room Disposal Chamber. It cannot be scanned and is not harmful, and the color bears a striking resemblance to that of Beta Acid seen in Tourian and Sector 1 (SRX), though any connection is doubtful. It is presumably bits of waste as the name implies and possibly even a mix of different excrements. It does not hinder Samus' movement and is drained out of the room when Samus releases the air lock.
Metroid Prime 3: Corruption Premiere Edition refers to it as "waste".
Ad blocker interference detected!
Wikia is a free-to-use site that makes money from advertising. We have a modified experience for viewers using ad blockers

Wikia is not accessible if you've made further modifications. Remove the custom ad blocker rule(s) and the page will load as expected.