Watch Station is a room in the Sanctuary Fortress. A large room, it features two rotating platforms in the middle that spin constantly and can be used as platforms. A Spider Ball Track exists on one of the walls and can be used to get to a Kinetic Orb Cannon, and in turn a series of more Spider Ball Tracks and a Morph Ball maze leading to a Beam Ammo Expansion as well as a portal to Aerial Training Site.
Connecting rooms
Edit
Inhabitants
Edit
First Visit
Edit
Later Visits
Edit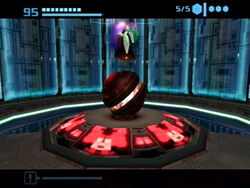 * Note: text is centered-aligned in scan, unlike the others which are left-aligned.
Ad blocker interference detected!
Wikia is a free-to-use site that makes money from advertising. We have a modified experience for viewers using ad blockers

Wikia is not accessible if you've made further modifications. Remove the custom ad blocker rule(s) and the page will load as expected.