Wii U
Manufacturer
Nintendo
Type
Video game console
Generation
Eighth generation era
First available
/ November 18, 2012[1]
/ November 30, 2012[1]
December 8, 2012[1]
CPU
Custom IBM Power-Architecture[2] clocked at 1.24 GHz[3][4]
GPU
AMD Radeon-based High Definition[2] clocked at 550 MHz[3][4]
Media
12 cm 25GB Wii U optical disc[2][5]
12cm Wii Optical Disc[2]
System storage
8GB (Basic) or 32GB (Deluxe) Internal flash memory, expandable via USB storage devices[2] and SD memory cards[6]
Online service
Nintendo Network
Units sold
3.45 million (as of March 31, 2013)[7]
Top-selling game
Nintendo Land (pack-in), 2.33 million (as of December 31, 2012)[8]
New Super Mario Bros. U, 2.01 million (as of December 31, 2012)[8]
Predecessor
Wii
The Wii U, codenamed Project Café, is a home console created by Nintendo as the successor to the Wii.[9] It was released in North America on November 18, 2012, in Europe and Australia on November 30, 2012, and in Japan on December 8, 2012.[1][10][11] The console was announced at E3 2011, where a prototype version was playable. The Wii U is compatible with games from the Wii, but sacrifices the functionality of Nintendo GameCube games or its peripherals (although an adapter allowing the use of GameCube controllers has been released, but they are quite rare).[12] The Wii U is also compatible with the Wii Remote, Nunchuk and Balance Board peripherals, which were initially designed for the Wii.
The console is the first Nintendo console to produce high-definition graphics, and features a new controller, called the GamePad, with an embedded touchscreen interface. The GamePad allows players to continue a gaming session by displaying the game through its screen, even when the television is switched off. In the trailer displayed at E3, players using the prototype GamePad were able to send media like videos wirelessly to the television screen through the use of the touch screen. The GamePad also features a camera, a microphone, its own sensor bar, motion sensors similar to the Wii Remote +, and NFC technology.[13][14]
The Wii U uses a new online service called "Nintendo Network", also available for the Nintendo 3DS. Unlike previous Nintendo consoles that featured online play, the Wii U provides personal accounts for each user in the household rather than relying on a single system-wide account.[15]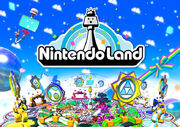 No Metroid titles have been confirmed for the Wii U as of yet, however, Samus Aran and Zero Suit Samus appear in Super Smash Bros. for Wii U. A Metroid-themed game called Battle Mii was shown at E3 2011, and revealed a year later to be one of 12 series-based Mii games in Nintendo Land, Metroid Blast.
The "Mii Wara Wara" menu design shown at the E3 2012 Nintendo Direct event showed a Samus icon that a group of Miis who preferred the series grouped under. One Mii named AC stated, "I've played just about every metroid game" amidst the other conversations. Another in the group, named Leo, remarked, "Back. He's baaaaaack..." The Samus icon was a Varia Suit based on artwork from the Metroid Prime Trilogy reverse cover.
Super Metroid is available on the Wii U's Virtual Console, which allows for GamePad-only play, restore points, screenshot sharing, and customizable controls. It was part of the Wii U Virtual Console Trial Campaign from May 15, 2013 to June 13, 2013, costing 30¢ for the 30 day sale only. The Super Metroid Miiverse community also launched on May 15th, which allows users to share screenshots, drawings, and text discussions relating to the game. [16]
Shigeru Miyamoto on "Metroid U"Edit
GI: What's the status of the Metroid franchise? Are there any Metroid games in development? Whether it's 3D or two dimensional?
SM: We don't have anything that we're working on that we can discuss probably. But we've always- just as we do with all of our franchises- have people who are looking at what they can do next, even with the Metroid franchise as well. So hopefully, at some point, we'll be able to announce it.[17]
Games featuring Metroid on Wii UEdit
Metroid games playable through Wii backwards compatibilityEdit
Metroid games through Wii Virtual Console backwards compatibilityEdit
Metroid cameos through Wii backwards compatibilityEdit
Metroid cameos through Virtual Console backwards compatibilityEdit
References
Edit