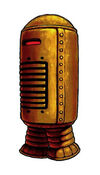 Work Robots appear in Super Metroid and Metroid: Zero Mission. They are stubby robots found in both the Space Pirate Mother Ship and the Wrecked Ship. While the Work Robots in Super Metroid are tall and can fire small round shots, the ones encountered in Zero Mission are small and unarmed; however, they often block narrow corridors, making them particularly annoying when Samus is in a hurry to pass by them. Both forms are immune to damage, but Missiles (especially Super Missiles) cause them to waddle away quickly, getting them out of Samus's way.
Work Robots also appear in the Metroid Manga, where they are equipped with flamethrowers, a weapon they used when eliminating a group of "corrupted" Iono Feria. They are also used for combat training by Samus Aran.
Yoshio Sakamoto has said that these robots are very common in the galaxy and are used by multiple factions. They have been seen used by the Space Pirates and the Chozo. Different models are most likely to exist, based on the different sized Work Robots encountered in games.
Official data
Edit
Super Metroid manualEdit
"These robots were built by ancient man to service the inside of the ship. Since the crash, they have gone completely haywire."
"Indestructible, they won't move without power."
Interview
Edit
"In the Space Pirate Mother Ship, there are bipedal robots that don't attack, are these by chance the same type of work robots that appeared in Super Metroid? Is the Space Pirate Mother Ship that exploded at the end become the Wrecked Ship that appeared in Super Metroid, Phantoon's stage? Please tell me."
"Because those work robots are an indispensable standard type found in spaceships of this era, I think they are the same as the ones that appeared in Super Metroid. However, the Mother Ship and the Wrecked Ship from Super Metroid are different from each other." [1]
Similar mechanisms called Garbatrons appeared in the Captain N: The Game Master comic A King of Shreds and Patches.
Work robots are very similar in appearance and behaviour to the Gonk Droids of the Star Wars saga.
Ad blocker interference detected!
Wikia is a free-to-use site that makes money from advertising. We have a modified experience for viewers using ad blockers

Wikia is not accessible if you've made further modifications. Remove the custom ad blocker rule(s) and the page will load as expected.