Xenotech is a form of technology of alien origin as defined by Samus' Scan Visor. This excludes Human or Chozo technology because Samus' Power Suit is Chozo in origin, and Samus is herself human. The Scan Visor describes machinery of Luminoth origin as Xenotech, although many other examples of alien technology could be deemed Xenotechnology.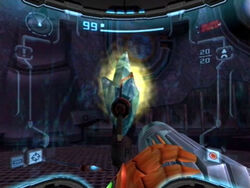 Etymology
Edit
The word Xenotech is an amalgamation of the two Greek words, ξενος and τεχνη, meaning "strange handiwork", or simply alien technology.
Ad blocker interference detected!
Wikia is a free-to-use site that makes money from advertising. We have a modified experience for viewers using ad blockers

Wikia is not accessible if you've made further modifications. Remove the custom ad blocker rule(s) and the page will load as expected.