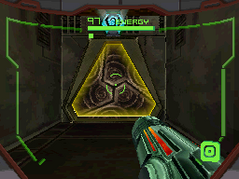 Yellow Blast Shields appear in Metroid Prime Hunters, and are first encountered on the Celestial Archives. They are vulnerable to the Volt Driver, and may be vulnerable to other electric-based weaponry as well. There are also Yellow Force Fields in the game.
"Analysis indicates the blast shield is impervious to most weapons. A HIGH-VOLTAGE weapon may damage it."
Ad blocker interference detected!
Wikia is a free-to-use site that makes money from advertising. We have a modified experience for viewers using ad blockers

Wikia is not accessible if you've made further modifications. Remove the custom ad blocker rule(s) and the page will load as expected.