"Chozo script translated."
---
This article's name is an unofficial translation from official Japanese media and may not represent the canonical English name, if one exists.
An alternate name from an official source may be required.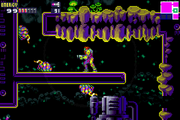 Zozoro (ゾゾロ?) are small larva-type creatures that appear in Sector 6 of the Biologic Space Laboratories research station during the events of Metroid Fusion. They can be found crawling around on the walls, ceiling, or floor; if they are injured, however, they immediately drop to the floor and begin moving faster.
Zozoro bear a notable resemblance to Zero and have a similar-sounding name. Until Metroid: Other M established Zero as the larval form of the Kihunters, it was entirely possible that Zozoro were recently hatched, very young Zero. The change in Other M puts the relation between Zero and Zozoro in question.
Ad blocker interference detected!
Wikia is a free-to-use site that makes money from advertising. We have a modified experience for viewers using ad blockers

Wikia is not accessible if you've made further modifications. Remove the custom ad blocker rule(s) and the page will load as expected.